Now Available For Preorder
Introducing Chase, our most affordable version ever! It's perfect for both indoor and outdoor use and can create courses up to 100 ft long at speeds up to 20 mph. And you can control it right from your phone! Oh, and did we mention it's wall-powered for unlimited playtime?
Comes with SwiftPaws CHASE! main unit, 6 pulleys, Critter Pack flags, line, line winder, stakes, tethers, tote bag, and collapsible water bowl.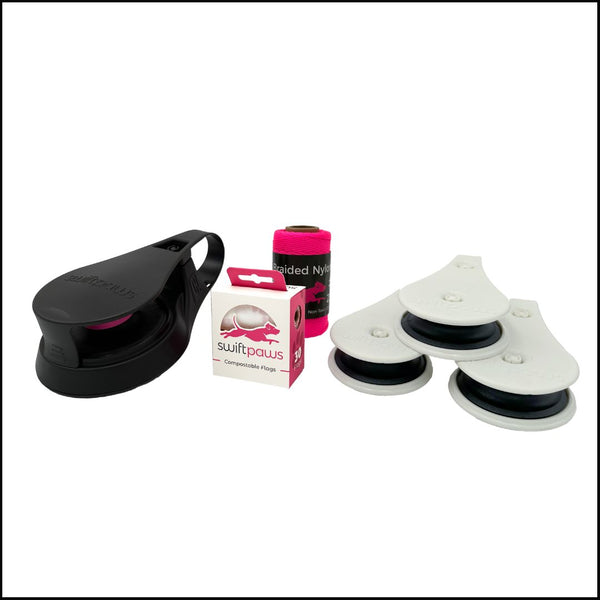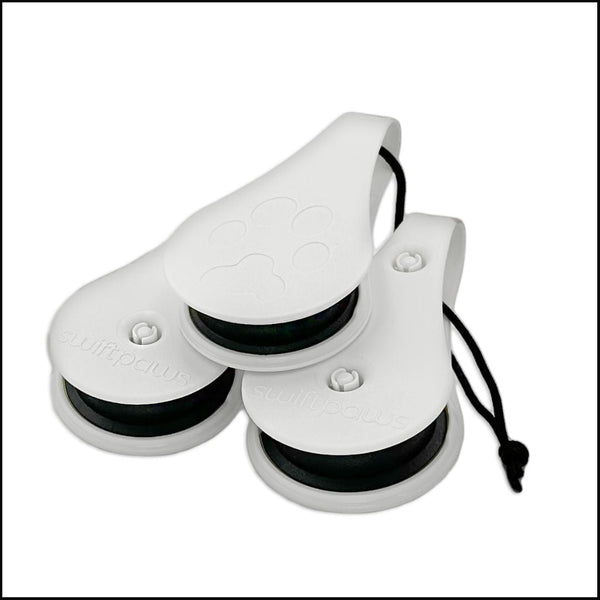 Unwrapping is half the fun!
Our pre-wrapped holiday plush toys are the perfect interactive stocking stuffer for your pup this holiday season. Watch as they tear into the pup-safe wrapping paper, revealing which mystery holiday toy they received!
A New Course For The Future
Over a decade ago, our founder, Meghan, started SwiftPaws because she wanted to try lure coursing with her pup, Pretzel. We started making pro-grade machines for all breeds and sizes then, due to demand, we brought you the Home Original Kit and Home Plus for backyard use.
After appearing on Shark Tank and partnering with Lori Greiner, we've been working our tails off to develop a more affordable version of our popular lure course kits.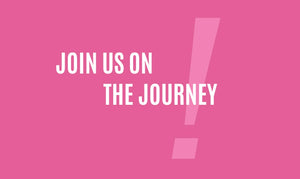 As a community-driven, small American manufacturer, we need your help bringing CHASE! to life. If you need to cancel your pre-order, you can do so at any time for a full refund.
We've made products like this twice before, and we're aiming to get CHASE! in your hands later this year. We promise to involve you in every step of the way, and we can't wait to have you join our pack.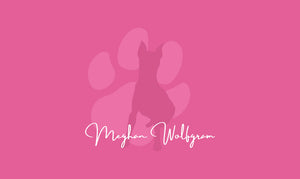 Pretzel was a miniature pinscher whose love for chasing things set the SwiftPaws brand in motion in 2012. His legacy lives on through his paw prints, which symbolize enrichment and serve as our promise to make quality products for your pet's best life.
Risks & Challenges
Our goal is to get CHASE! into your hands this year. And while that may happen even sooner the biggest risk is that it may take longer. If at any time for any reason, you need to cancel your pre-order let us know and we'll send you a full refund.
Every product development journey comes with challenges. CHASE! is already to a point where we're confident that with your help we'll be finalizing development and getting it into production later this year.
Will my dog CHASE!
Most pups have a natural instinct to chase.
If your pup doesn't love CHASE! for any reason, we have a full 30-day return policy and we thank you for giving it a try.
When will my order ship?
Our goal is to ship in time for the holidays! We will be able to provide a better estimate as development progresses. As a part of our Pack, you'll be able to ask questions and help us along this journey.
Safety features
All SwiftPaws lure coursing kits have multiple built-in safety features, like a safety stall in case your pup steps on the line and a 90-second play session timer.
Please note these products are intended for pets in their prime and not for use with young puppies or senior dogs. This is a high-intensity form of enrichment. You should always ask your vet if your pet is up to this kind of activity.
Is there setup required?
Yes! Your pup already knows how to play; make sure you do too! Before setting it up for the first time, be sure you've watched the video and read the instruction.
Need Help?
Our team is here to help! Just email support@swiftpaws.com, and we'll get back to you quickly! We also have a robust support center for more commonly asked questions which you can view by visiting support.swiftpaws.com